NFE
by Matthew Golding
The White Stuff. Cow Juice. Milk. It's what Ian Rush drinks, apparently, and that's probably as good a reason as any to quaff the lovely stuff with abandon. But not everyone thinks so, of course, so it's good news for any bovines worried about their long term survival that their second most prolific bodily product has some new ambassadors (other than 80s footballers with dubious hairdos). Billed by the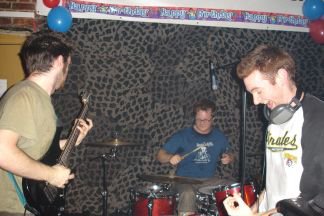 promoters as '
Probably the Best Unsigned Band in The Country
', London based four-piece
Full Fat
made the journey to Southampton Soul Cellar for the latest in the New Funk Era's events calendar. Already well known on the Wessex scene, the gigs are a showcase for local DJs and dance acts. You'll find anything and everything from funk to hip-hop to electronica and the most obscure in alternative dance records on two floors, with stylish and compulsory freestyle beat-box MC breaks thrown in for good measure. Cycrowave Murray's concluding set of the evening is a pleasing mix of original and DJ tracks ranging from sweet melodies, ambient sounds to no-nonsense drum 'n' bass and uncompromising gabba. But the evening's live centrepiece, Full Fat, are deservedly the most popular act on show. With an arsenal of turntables, synths, drums and guitar,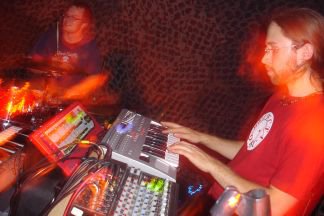 Full Fat's set is a succession of ever more crowd pleasing electro-funk jams. With each component of the sound no more important than any other, the various riffs and breaks combine to form an intricately layered wholeness, full of filthy distorted funk guitar, grinding synth riffs and simple, short, beat-inspired melodies. The scratching from the turntables is inherently rhythmical and unique, occasionally truly melodic, interlocking with the guitar part to form intricate rhythms. Full Fat have created a sound that is exactly as their name suggests, both 'Full' and 'Fat'. Each instrumental part is upfront and enjoyable without becoming the 'look at me' centrepiece that funk/jazz is so easily reduced to. Perversely processed, yet undeniably live, the band's music thunders over the PA to an atmosphere of crowd euphoria, bathing in straight-from-the-fridge freshness and more individual and in your face than a milk moustache. Full Fat have taken funk and dragged it from the strawberry champagne, Wa-wa obsessed 90s into something that is at last relevant again…
JTQ? Who are they? Exactly.