+ Bedouin Soundclash + The Automatic - Southampton Uni - October 2005
by PH
Southampton University played host to the first of two Southern dates on The Ordinary Boys tour (the other being 1st November at Eastbourne Winter Gardens), with support from 'special guests' (and fellow B-unique colleagues) The Automatic and Canada-based Bedouin Soundclash. The Automatic kicked off the evening with a reasonably short but proficient set. They produce a very bass and drums-driven indie sound, with flashes of electronica, mixed with flowing guitar layers. It's nothing new, to be honest, but they do have a talent for it and a certain quirky presence that makes them enjoyable to watch. 'Monster' was particularly representative of their vibe, which you can hear at
their myspace address
.
Bedouin Soundclash
have an altogether
different, and more accomplished, feel to them. Their simple three-piece set up – bass, drums, guitar/vocals – reflects their stripped down sound. This does not, however, take anything away from their presence – both physically and sonorously. They match exact, rhythmic drumming with fluid bass lines to produce a reggae rock sound, tinged with a dub feel, topped off with guitar rhythms and a raspy vocal that doesn't always suit their sound. It's funky stuff though and the crowd are clearly getting well warmed up. However, with the exception of one or two songs, they don't deliver anything truly memorable. I think that's also the only criticism I could have of The Ordinary Boys, who take to the stage in front of a now heaving crowd.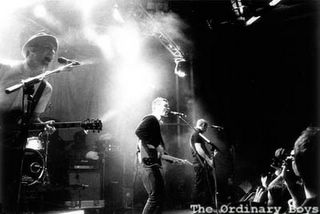 It's possible that I'm completely alone with this thought, as a large portion of the collected audience sing along to every song the boys deliver with gusto and smiles on their faces. It's like songs for the people – ordinary people singing along to songs written by ordinary boys. The sort of songs they would write themselves, if only they had the talent. But this is also where I find a problem with it. The music is good – sounds great, very proficient. The songs are short so I'm not bored by them. But it is all just a bit… ordinary. It's inoffensive, immediately forgettable music. Entertaining to a point, but not life changing. I don't mean to suggest that all music needs to be life changing - I just want it to be
something
. Having said that, I have since bought an Ordinary Boys album on the back of seeing the gig. So who knows? Maybe next time I'll be singing along with the rest of the crowd and having as good a time as they were.