Messclean - Frog on the Front - October 2005
by Kurt cooder
With the start of the rainy season upon us, I'm always rooted by this deep fear that every local band I love will fall foul of Seasonal Affective Disorder. Not
DURI
, at least not tonight.

Unleashing a new song unto the world, or Portsmouth at least, this band proved that upwards and forward with conviction are the only directions to face. Sounding a little muggy at the start, and to my surprise a little stage-shy, DURI soon got well into the swing of things with the coruscating brilliance of 'With Me', track one from the E.P 'Self Right Me'. Watching singer Jaye pour out her passion on this dull evening, while the band willingly lose themselves in the music to the point of self-indulgence, I was left wondering (again) why the hell this band aren't appearing on (at least) some of the smaller stages of some of the major festivals. On the surface the band are joyous and well executed, intricate in their arrangements yet deft enough to make it look easy.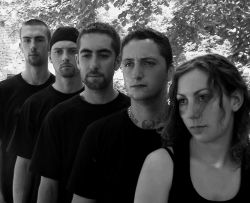 Beneath the surface there were moments that were the sum of an outstanding performance. The powerful guitar phrases, heartfelt and well thought-out lyrics could only ever add up to a deeply forged, emotional response; leading me to conclude that this is a band comprising of individuals who have lived. Here is a band who understands the trials and tribulations of love, loss and life which, as any artist will confirm, ultimately leads to understanding. Here is a band for the grown ups to listen to/empathise with and for the kids to go nuts to. A band that with any luck will not belong to Portsmouth much longer, for the world will surely beckon with hungry eyes for such talent, it just doesn't know it yet.