Southampton's NEW Club Fandango Night - Lennons
The SpinOuts + SixNationState
by Louise Glyde
Lennons nightclub hosted an evening of Fandango fever on Saturday, thanks to a new collaboration
between Southampton-based promoters
Long Live Rock and Roll
and
Club Fandango
. The packed club was treated to the exotic sounds of The SpinOuts and
Six Nation State
. Headliners for the evening, South London based Ludes, had to pull out of the gig due to illness, but that in no way made the evening any less entertaining. First up were loud and proud four-piece
The SpinOuts
.
The small stage was only just able to contain this band's enthusiasm and earth shattering sound - The SpinOuts are LOUD, but accompanied by a tightly-held-together melodic beat. Their 'turn it up to eleven' attitude meant that, at times, lead singer Tom was drowned out, but this aside their stage presence was fantastic, with lots of impassioned, sweaty playing. They were very appreciative of the raucous reception from the crowd. The refreshingly chaotic
Six Nation State
were up next.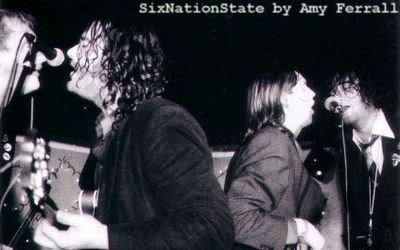 They sound like a mix of everything from Hendrix to Tex Mex, with the pace of Motorhead. Their infectiously upbeat sound immediately hit the crowd, who started dancing furiously to their electrifying tunes. It was obvious that Six Nation State were having just as good a time as everyone else. Their songs were fast enough to bounce around to, but well thought out lyrics were also audible and gave the songs some depth. It was like Lennons was transformed into a Mexican fiesta - Six Nation State are brilliant fun and will definitely bring a smile to anyone who watches them. On Saturday November 12th
Long Live Rock and Roll
and Club Fandango present The Research, Tri City President and UK Surf.