A + My Awesome Compilation + Capdown
Southampton University - October 2005

Nearing 8pm and the expectation hangs like a fine mist inside Southampton University's Student Union building. Onstage, the final preparations are being put in place for the South leg of A's 6-date UK tour. As the background music fades away a modest audience await the arrival of
My Awesome Compilation
,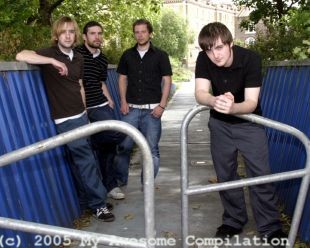 the first of tonight's two support acts. As soon as they take the stage, they break the air of expectancy with an explosion of genus-defying noise - performing an eclectic fusion of rock, punk, pop and emo with as much gusto as an atomic bomb. Most spectators were not particularly amazed, however, and the band only seemed to have one or two fans among the small congregation. As the set progresses, their reception increases and this serves to strengthen their confidence and stage presence. As the final song approaches, vocalist Chris Driver proclaims, "
I know you probably haven't had enough to drink, but join in anyway!
", which procures the desired result. In anticipation of the 2nd of tonight's acts, a surge of excited
Capdow
n
fans push towards the barrier. As soon as the four-piece emerge onstage,
ambient keyboard sounds and experimental effects drop into the pounding rhythm and stabbing saxophone of 'Act Your Rage'. The entire venue seems to be yelling along with every word of the oft-political Skacore emitted from the mouth of lead singer Jake. Capdown's stage presence is faultless. They have a passion for the music they create which is unparalleled by any band I have seen to date - and you can tell they love to please their crowd. Their set moves through brand new material such as 'Keeping Up Appearances' and old favourites like skanking anthems 'MV4' and 'Ska Wars'. Southampton's crowd skank, mosh, jump and yell their guts out. "
We've got two more songs
" says Jake. 'COUSIN CLEOTIS!' screams Southampton and Capdown do not disappoint. As their final note rings out across the ecstatic, sweating and knackered crowd, everybody scuttles off to drink gallons of bar refreshment. The gig feels as if it should end there, along with the world, in perfect harmony and bliss, but there is still A's headline set to be performed, although you wouldn't know it by the amount of elated Capdown fans leaving the venue. Nonetheless, A still perform to a sizeable crowd, however inactive they are for the techno introduction to 'Took It Away'. Fortunately the song's chorus injects life into the souls of the audience and a moshpit is established for the remainder of the set. The heavy guitar intro to 'Nothing' is met by many cheers and a big crush toward the front as everybody goes crazy for A's biggest, mainstream hit. Sadly it seems quite a few people feel this alone is worth their fifteen quid and abandon the gig early, leaving around 100 fans to enjoy the album gem 'Something's Going On'.
The pit's positive reaction to the set so far increases the band's mettle as they launch into the more chilled-out 'Going Down', sporting huge grins. This song was written only just pre-9/11 and refers to a fated flight. It was an interesting choice considering recent terrorist activities and it left a poignant message in my heart. While A took their set through diverse examples of their back catalogue, their crowd were sadly dwindling a little with each song, and the remainder beginning to tire. Jason Perry's vocals were not on top form tonight but the band were definitely tight musically and there was a consistently good reception from the audience. Old favourites 'Pacific Ocean Blue' and 'Starbucks' enthused gig-goers into a final burst of energy and the night finished on a definite high, although it was hard to deny that A's set had been somewhat shadowed by their stunning choice of support bands.