Demonstration One EP - CD Review

by PH
The first thing you notice about 'Demonstration One', and its accompanying promotional material, is that it looks good.
The band have obviously put a lot of thought into this and it has paid off.
Having seen
Mach Schau
live, I was interested to see if this CD would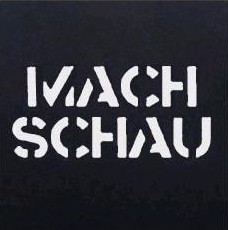 accurately represent the passionate, energetic, just-the-right-side-of-shambolic live vibe that makes them so popular.
It's clear as you get into 'Feel This Way' that they have the sound just about spot on to capture their live appeal.
It's well mixed but maintains a certain raw edginess.
And the songs are good.
'Feel This Way' is a frantic journey of guitars, drums and a not-always-perfect vocal that sounds like singing the song is an after thought.
That's not a criticism – you just get the impression that he'd rather be throwing himself around and dancing manically which, if you've seen them live, is exactly what he does do.
'Shoot The Blues' has a more laid back feel to it, with more delicate guitar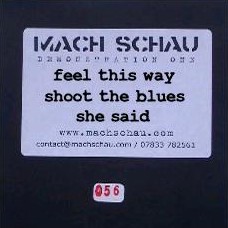 work and a rambling but catchy vocal.
Although it doesn't have the immediate energy of the other two, it is well thought out and my favourite of the three.
At two minutes thirty-three seconds, 'She Said' keeps itself short and sweet enough to deliver just what it needs to.
It's punchy, instantly memorable and hits you in the face with just the right amount of force.
A great example of how they've transferred their live sound to record.
I'll be interested to see how Mach Schau develop as time goes on.
The music is good, their performance enthralling but I can't help feeling their best is yet to come.
All three tracks can tracks can be downloaded by visiting
www.machschau.com/music.html