by Louise Glyde
Things are looking rosy for five-piece band
Volume
. They have just signed up with management company Mumbo Jumbo and recorded four tracks at top studio Real World in Bath. Now the boys are eagerly waiting to listen to their professionally recorded work before they decide which song should be released as a single. Volume formed a year ago by founding members Ben Ward, 25, from Shirfield English, Ed Martin, 24, from Beaulieu and Gary Wood, 26, from Southampton. The trio needed a bassist and Tally Fathalla, 23, from Watford, offered to help out and ended up becoming a full time band member. Chris Sarantis, 24, from London, was a friend of Tally's and is the newest member of the band. He said: "
For me it was a very smooth transition. I found my parts on guitar and keyboards pretty easy to learn and I have contributed to the songwriting. I feel pretty much a part of the band.
" Volume started getting attention from the music industry earlier this year. They describe their music as primarily electronic and synth sounding, with a bit of pop and indie thrown in. Ben, who also works at The Railway in Winchester, was in charge of sending out CDs to various people and shifted around 100. Within weeks he said his phone was red hot with people who were interested in the band and their sound. Ben said: "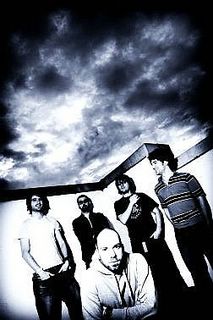 We started getting so many calls, some from the USA, about putting singles out. We ended up going with the people who phoned us first. Our management company gave us a chance to prove our worth and we have recorded a couple of tracks. When the phones were going it was probably the most exciting period of my life.
" Ed continued: "
There was a period of about two weeks when we were continually getting calls from management companies and we thought 'Shit, this is serious'. We've got shows booked for September, October and November and there's talk of us going on a UK tour, but everything is still up in the air. It depends on how the single goes. It's quite scary. We have been recording and writing our own stuff and everything has been under our control for so long. Now the production and management company are doing everything for us and we feel a bit out of control. I would like this dream to be turned into a reality. I would like to do an album and walk into HMV and see it on the shelves.
" Ben added: "
I would like to go into the studio for quite a while which would give us the chance to so something in detail and put all of our effort into it and really hope lots of people like it. I'm particularly into writing. I'm not trying to write a number one, but I am trying to write songs people are going to sing along to.
" Chris said: "
All my friends have obtained various degrees of success and I just want to say I'm in a wicked band and look back when I'm older and say 'I did that'
". Volume will be playing Moles in Bath on Thursday September 22nd, The Railway in Winchester on Tuesday 25th and Saturday 29th of October and The George in Andover on Thursday October 27th.
For more information about the band visit their website at
www.myvolume.co.uk
.