rude_NHS + The Stem Project @ Deviock
Deviock is an underground music festival held near Bodmin in Cornwall – a chance for DJs and alternative dance and rock bands from all over the country to get together, hear each other's music and eat hog roast. Judging from the Winchester acts who made the five hour drive, something is in the air… and for once, it's got nothing to do with the toilets. The sounds of
rude_NHS
are an acquired taste and so it's hardly surprising that his own particular brand of heavy electronica is at first largely neglected by the Deviock festival's drum 'n' bass hungry crowd.
Those who stay past his opening track, however, find his set in the Dib Dub Dance Dome to be entirely deserving of its prime time slot. Moving away from his recent jazz-inspired musings and back to the sound for which he is best known, rude_NHS plays a set of violent electronic distortion, cut up jungle drum riffs, melodic flashes and the occasional virtuoso performance on the electric guitar. There can be no doubt that many people will find his style to be too personalised and anarchic – verging on the self indulgent – and it is a sound that could sometimes be characterised more as bewildering than anything else. Once the steadily growing crowd submit themselves to his will, rude_NHS refuses to let go until the closing moments of his bizarre remix of the Grange Hill theme. As talented as he is uncompromising, and with a set list at times verging on audio terrorism, Rude_NHS' triumph can be measured by the fact that he became the only act over the entire weekend to leave the stage with those he had just entertained chanting his name.
The Stem Project
are quickly becoming well known around the local, alternative dance scene and with good reason.
A two piece act consisting of laptop and vocalist, their Saturday set is a well balanced mix of drum 'n' bass, clicks, glitch and unpredictable melodic lines. The lusty drawl of the vocals is performed with justifiable confidence and, when mixed with the sampling process, an arresting feature of the music. It is the sounds that come from the laptop,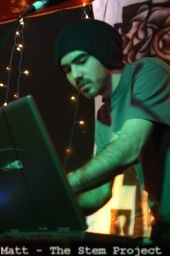 however, that turn what could be just another electro ballad act into something approaching professional mastery. Although audience interest palpably wanes during the one or two slower tracks, when The Stem Project are at their best they cannot be shifted from centre stage. Poised above maliciously plump bass lines, the beats are meticulously crafted with an innate sense of funk and rhythm, showing their creator to be both a natural musician and born producer. If The Stem Project had more confidence in themselves, they might not feel obliged to try and tempt the characteristically fickle crowd into staying with the promise of drum 'n' bass to come. That proved to be hardly necessary. When on form they are fresh, talented and original, pleasing audiences and effortlessly gathering new fans at every turn.