Birdpen - Fake Kid EP
by Matthew Butler

Thankfully there appears to have been a cull of new 'The' bands in recent months, and yet it's hard not to smile a little at Birdpen,
who are named after Dave Pen and, yep, Mike Bird – who said originality was dead? What the Southampton two-piece may lack in band name ideas, their music more than makes up for with its cynicism and sinister-ism (it's a word now, ok?) making listens both unsettling and insightful. As slow burning as a BBQ in December, it takes a few listens to warm to this offering, especially given the tracklisting which opens with the EP's least loveable cut. The title track is undoubtedly interesting in its originality, yet its finger-wagging tone is risible and not nearly as clever as the band would like to think it is. Not so with 'A Round Of Applause For A Great Disaster'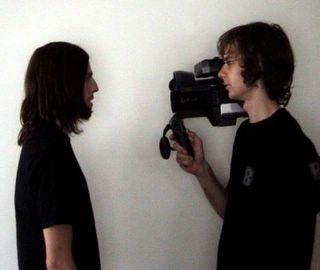 however which displays both a simple melody and convoluted structure. It's little wonder that this track was included on the recent south coast '…Railway' compilation as it displays the inventiveness of The Beta Band, the beauty of Radiohead and the chopped-up goodness of Tom Vek. Closer 'Huron' is the most accessible song on show and displays a sighing beauty which not only further develops Birdpen's sound but highlights a band willing to spread their wings and escape the constraints which hold most of today's 'The' bands.