by Sam Goodman
"
I'm your friend, I can help you, have a seat and lean back
" purrs Big Joan's singer Annette on 'Here to Help', possibly addressing anyone seeking an alternative to the usual crop of indie kids and punkers that pervade the local scene in every town.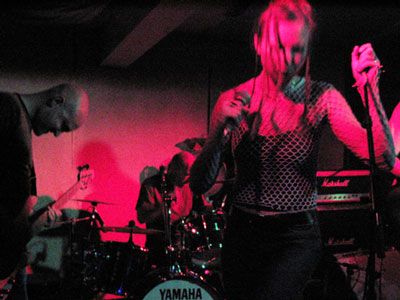 See, "usual" isn't a word that's likely to appear in the same sentence as Big Joan; combining a repetitive, pounding rhythm section with frenetic swirls of guitar and Annette's alternately louche then wailing delivery, Big Joan are clearly not your typical prospect.
Forming in
Southampton
in 1999, and now residing in
Bristol
, the band are a must-listen for anyone looking for something unlike everything else. Consisting of singer Annette, guitarist Adam, bassist Simon, evident uber-drummer Keith and percussionist Stephen they are already making a big noise on the thriving scene in their adopted home town as well as on the national underground circuit and, no, it isn't just Simon's bass. They are truly independent both in their sound and in terms of ethics - releasing their last album 'Insects and Engines' (2004) on their own label, Blood Red Sounds and seemingly gigging constantly, taking their show to anyone who will have them.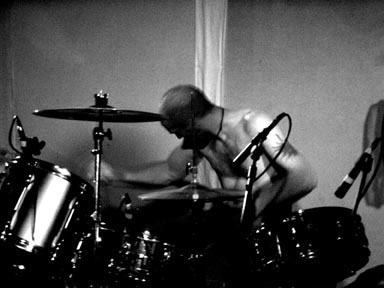 Apart from the album, a limited edition single, 'Tiger/Vostok' is available from their website (
http://www.bigjoan.com/
); personally I'd recommend getting one now before they start changing hands on eBay for a small fortune. Future plans include continuing to take the Big Joan experience across the country and the recording of a new single entitled 'Here comes the flood' - to be released in autumn 2005.
So this is Big Joan, a discordant, angry, alluring, melodic and startlingly original combination of musicianship and drive. But do you want to know the best thing? You can dance to it too.