PVC Presents Art Brut, Live @ The Joiners, Southampton - September 2005
by KP
It doesn't seem so long ago, about a year and a half in fact, that Art Brut played Lennons to an audience who didn't have a clue who they were and weren't especially receptive. Even at their
last gig in
Southampton
, prior to the release of their album, 'Bang Bang Rock and Roll', the audience was half this size. Tonight, playing to a sold out Joiners' crowd,
Top Of The Pops
suddenly doesn't seem such a ludicrous idea anymore.
People are crammed into every corner of the room, spilling out of the doors, falling over themselves to see the now infamous Eddie Argos and his band. Never have
Southampton
's scenesters got as sweaty as tonight, to a poppy soundtrack of spiky guitars, bouncing bass lines and quirky mantras. Onstage,
Argos
is in his element. The PA has packed up and died but that's a footnote because amidst crowd surfing and stage invasions, the Steve Coogan of the pop world is thriving on an audience of boundless energy. Each and every eccentric song begins with excited cheering and ends with feverant applause and affectionate heckling.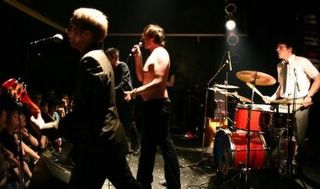 Crammed in front of me is a girl with jet black hair, a neckerchief and cowboy boots shaking a tambourine and singing along to every track. Half way through she turns to her friend and says 'I wish I was in Art Brut' and here lies exactly the sentiment that makes Art Brut so appealing – the feeling that it could be any of us, that they're our best friends. They aren't cool. Despite the conspicuous replacement of original geek guitarist Chris Chinchilla with a skinny indie boy of Shoreditch proportions,
Argos
is ever the loveable geek. Sweaty, slightly overweight and singing about his failures in the bedroom, he's far from your archetypal rock star but who cares? Being in Art Brut looks like fun.
Will the fun run out? Will the joke come to an end? What could a second album possibly hold? Tonight no one cares, the only thing on their minds is rocking out, Moving to LA and Art Brut on
Top Of The Pops
.