Officer Roseland - The Hobbit - August 2005
by Louise Glyde

The Hobbit in
Southampton
was host to four American rockers on Saturday night.
Officer Roseland, from
Philadelphia
in
Pennsylvania
, performed five dates in the
UK
and used a mobile home in
Andover
as a touring base. The band consists of Dan Daidone (vocals/bass) Brian Jones (keyboards/guitar) John Ilisco (drums/percussion) and Harry Grannis on Bass. They oozed typical
American 'skater' cool with their shin-length shorts, baggy t-shirts, tattoos, earrings and baseball caps. Their music was extremely fast paced and a cross between heavy rock and punk with an occasional hint of ska - although is seems so many current bands shy away from being pigeon holed into a genre. Officer Roseland have a relatively good variety of songs. Heavy guitar playing coupled with steady and skilled drumming got the feet moving to the ska-sounding tunes and the heads banging for the heavier stuff. It was good gym or driving music,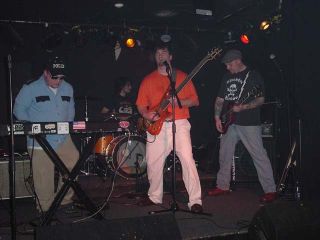 racy enough to get the pulse up and constructed eloquently enough to sing along to. Lead singer Dan literally flailed a tambourine about like it was trying to bite his arm of and sang himself blue in the face. He really got into the music and, like the rest of the band, encouraged the handful of onlookers still around at
to get sweaty with him. Officer Roseland had a good sense of humour and they bantered with the crowd like they were Hobbit regulars.
An evening of good fun and great music, lets hope we'll see Officer Roseland around our way again.