The Lazys, July '05, The Wedgewood Rooms, Portsmouth.


Mutation, transformation, transmogrification even, call it what you will. It's widely accepted that vital to any band's longevity (Oasis excepted!) is the ability to evolve and take on new influences as the years roll by. As such, The Lazys' three-year tenure on the
Portsmouth
scene has brought many variants and a band member turnover that would embarrass even Spinal Tap -
although, strangely, 'drummer' is a position that has never changed its incumbent.
So with the most recent line-up having been together honing their sound for the last year, it was in great anticipation that the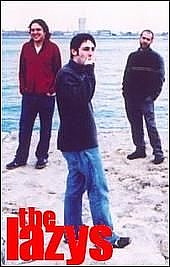 band's loyal following made their way to the Wedge on a wet Wednesday night. Beginning with a self-deprecating "and then there were three" and a sly wink, the band's latest incarnation revealed to us their musical wares. Part Brit-pop era indie-rock, part nu-wave punk they showed variety, but the tunes always remained distinctive and the set as a whole, coherent. Belying their mere three members they displayed a much fuller sound than could reasonably be expected and rich vocals were complimented well by tight backing. Overlaying this sublime backdrop was guitar of impressive diversity. Interchanging swiftly between XTC style stabbing riffs and John Squire-esque blues licks and arpeggios, 'one-trick-pony' is not an accusation that can be laid at this man's door. If there are any criticisms perhaps a little more movement and crowd interaction would be nice.
Also, the addition of greater vocal support would further improve the already very good melodies. But don't think these are your average pub-rock wannabes; the quality of the songs mean they can almost be relied upon to perform themselves. It's fair to say the band are unlikely to break any new ground, but if you want well crafted intelligent rock, with more than enough edge to steer clear of the Keane/Travis tedium, you've come to the right place.