The Dionysus - Take It Or Leave It
by Louise Glyde
The long awaited second album from The Dionysus, 'Take It Or Leave It', is finally available, and it was worth waiting for. The
Winchester
quintet recorded the follow-up to 'Dionisia'
in five days at a
London
studio and it is a creation they should be proud of.
'Take It Or Leave It'
has a good mix of rock songs and acoustic ones, like 'Dionisia', but leans more toward the rock end of the scale. This band are so enjoyable to listen to because they're not afraid to go back to the grass roots of real rock and roll. Songs like the title track from the album make you want to reach for a tennis racket and pretend to play guitar. They sound a lot like the golden oldies of the rock world, a melting pot of Alice Cooper, Rolling Stones, Aerosmith and AC/DC, but their songs and music are purely their own.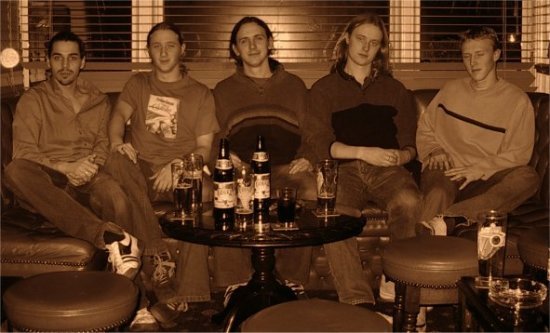 Lead singer Neil Grant, aka, 'Paddy' really makes the songs come alive with his explosive voice, but is just as good with the slower songs, like 'Dead Man River'. His voice transforms from explosive to sensitive and impassioned, which
makes the listener empathise more with the lyrics. The guitar playing is superb and guitarists Dan Bearne, Gaz Parker and Ali Hamilton have all excelled themselves on this album. The acoustic guitar playing is just as skilful as in the faster paced songs. We mustn't forget drummer Ace Hamilton, he keeps the songs in time with great and complex drumming, he's always a star. Although this album is a real gem, there is nothing like seeing this band live. The passion and energy they have for their music has to be seen to be believed and by listening to them through their recordings you only get a taster. Their gigs are always good humoured and lively and well worth a look. Please see
www.thedionysus.com
for future local dates.