Birth Of The Filth Trinity
Dragon Eye Morrison
+
Mister Doom
+
Little London
+
In This Defiance
(temporarily replaced by
Hellcyon
) - Frog on the Front, Southsea - 15th of July, 2005.
by Tommy L
:
Tonight's "Birth of the Filth Trinity" has to be one of the most hyped gigs in Portsmouth's recent history. A collection of four of the fair city's metal acts, in one show, would lead many to cover their ears and run. The local scene, however, seems to have embraced the concept and turned out in force. Despite missing one quarter of their number due to a drummer-less In This Defiance, the Trinity soldiered on. The Waterlooville band's replacement, Hellcyon , were to perform an incredibly tight set. However, when the chips are down, your number's up, the time is nigh and I run out of clichés, you have to deliver.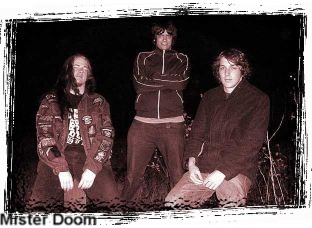 The Trinity's openers are Mister Doom: a hard rock behemoth from the early 80s Metallica school of thought. All Explorer guitars, crunching riffs, epic bombastic arrangements and with the singer's flowing Hetfield-esque mane and beard, the band wear their influences proudly on their sleeves. However, for all their exuberance and almost tangible enjoyment, their efforts were continually thwarted by an obvious lack of rehearsal. It's worth them remembering that constant time changes are only impressive when performed well. Lacking cohesion, as they did tonight, the band may also want to consider an additional lead guitarist to fill out their sound. It was a shame they couldn't pull off many of the more promising avenues they pursued. Following on from slightly underwhelming beginnings, we were treated to Little London.
A band who ooze charisma. Seeping from every pore is a smugness that comes not from thinking, but from knowing they're good. They are the sort of band I should love: overflowing with balls-to-the-wall, Brit-rock attitude and presence; exceptionally executed three way harmonies and a bass player who would even bring out the green eyed monster in Bootsy Collins. They are not, however, quite there yet. A touch more variation in tone and a few more tracks like the inspired 'Love Reaction' though and I can't see it being too long 'til they are. Headliners Dragon Eye Morrison were given the honour of bringing the final instalment of the evening.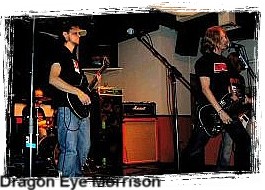 Ordinarily these apocalyptic doom-bringers can be relied upon to bring venues crashing down leaving only a few survivors to relay the sonic horror they experienced. Sadly tonight it just wasn't the case. Maybe it was the heat, or any one of the numerous equipment issues, but something was missing. DEM were technically excellent, despite the aforementioned matters beyond any band's control, and tighter than the proverbial duck's arse. The occasion (which in fairness affected all the bands) seemed to lead to a stuttery set. All too often there were interruptions while other band's singers were brought on stage to give guest vocals, or to be 'bigged-up', disrupting continuity and making it hard to ever truly get into it. These rounds of mutual backslapping also left us on the outside of the loop feeling like uninvited guests at a Portsmouth musician's love-in. Criticism aside, a bit of tinkering here and there and this surprisingly diverse mix of bands could have put on a truly awesome show. Still, so soon after the Trinity's birth a few teething problems were only to be expected. I recommend waiting until it reaches adolescence and then making sure you watch them from a safe distance!