Ladytron's Mira - Interview
Ladytron's Mira played a DJ set at The Consortium in Bournemouth. One of the hottest electronica acts in the country. Read on for an all too brief interview:
by Kid 73
Firstly, did you enjoy the night at The Consortium?
Yeah, didn't know what to expect but it was fun.
When you turned up to DJ you were impeccably dressed and had a stunning jacket on, how important is the image to you?
Image isn't any more important to me than to any other girl going out. We are lucky that we get to travel and get fun, cheap clothes from interesting places. As a band we have always had a strong image, as do a lot of other bands like Interpol; Franz Ferdinand; The Beatles and Nirvana to name but a few. If you are a band you are kind of in a gang and so end up dressing in a certain way to indicate that.
The new album is being finished off as we speak, has it been a millstone around your collective neck or has it been a bed of roses?
The new album is finished and we've had a lot of fun making it. We've had more time to work on it than the previous one and I think it shows. We also toured heavily before we got into the studio so the way we played live has also influenced the way the songs were produced. It definitely feels like it has been a leap forward to us.
Do you still enjoy going to clubs or does it seem more like work these days?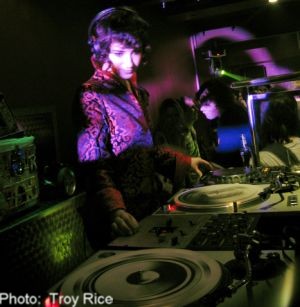 I've always enjoyed going to gigs and pubs mainly, but occasionally I love going to clubs as well. Nothing's changed there... clubs stay open later, so I do end up there a bit. House parties are best. That's as in a place people live in, rather than the style of music - though I like certain 'House' nights too.
You have said before that you all suffer stage fright; do you still suffer? Do you get it when you DJ?
I've never really had stage fright when I'm DJing. It's something I've always seen as fun. 3 of us used to DJ before the band got together. It's been a lot of fun DJing as a member of a band because a lot of people turn up specially to hear what you are going to play. As a band we still get stage fright on some occasions - but in a nice way. I'd say it's excitement more than stage fright... I hope we never lose that. Thinking about it though, I was terrified when we played in Bulgaria a few years ago. My gran was in the crowd.
What about your side project with Kings Have Long Arms? How is that going?
Ha Ha. It wasn't really a project. I just remixed one of his songs and it wasn't a very 'Ladytron' mix so I did it under a different name. I will still definitely do more of that - time permitting. Kings Have Long Arms and I are part of the same chuckle demographic so I'm sure we'll end up clashing swords again at some point.
You mentioned your place of birth, Bulgaria. Will you continue to write lyrics in Bulgarian? Are there any Bulgarian lyrics on the new album?
Yes, definitely. Bulgarian sounds better over certain grooves so there's still a need for it and yes, there is a song in Bulgarian on the new album.
What's this I hear about a dream pub in Cornwall?
A pub with a studio in the shed and a few goats and alpacas running around. Some chickens laying eggs... something I'd like to do when I grow up.