DEM review - The OPCOTA
Portsmouth's
Dragon Eye Morrison
get apocalyptic on our ass. And nobody's gonna argue:
by Tommy L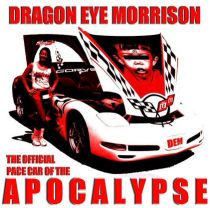 Anyone who has ever been to a Dragon Eye Morrison (DEM) gig and wondered if the violent energy of their stage show could be conveyed on CD, finally have their answer: a resounding yes! If debut EP '
You Fear…
' offered an inkling as to the direction the band were heading in, '
The Official Pace Car Of The Apocalypse
' sees them arrive at their destination. It contains four tracks of the purest havoc, characterised by their all-consuming stampede of a rhythm section, trademark brutal guitar work and savage vocal assault. The opening track 'Sinful Mile' begins with the pounding of bass and drums setting the scene for the following fifteen minutes. Buzz-saw guitars continue the aural onslaught, arriving from every angle, while breakneck solos sing their unholy proclamations. Through several changes of pace and tone it's testament to the quality of the arrangements and musicianship that any occasional moments of subtlety, such as a bass glide or pinched harmonic, are not lost in this sea of antagonistic mayhem. More Slipknot than Maiden, the sound is never less than contemporary, while retaining obvious points of reference in older favourites such as Pantera and Slayer. Spearheading the Portsmouth metal scene's 'Filth Trinity' has clearly hardened their sound, as it's now so encrusted with grime that you can imagine small children's mothers telling them not to touch for fear of what they might catch. It's sick, it's twisted and it's bloody, but I would imagine that's just the way they like it.
To listen to or download DEM sounds, click here.