Autons - Live Review
Autons lit up the Wedgewood Room's Binary Nation. Here's how:
by Toastie
.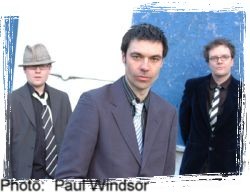 Autons like banter.
Their first song, the Captain Beefheart sampling 'Can Fever', kicked off, only to be drastically shortened by technology – and this became a standing joke throughout the set.
Autons have good songs, very good songs with intelligent lyrics and, in a world of paint-by-numbers indie guitar chancers, a sound which is very refreshingly their own.
Autons' music may be electro based, but the warmth of the guitars makes the sound somehow more organic and less cold than bands like Ladytron.
By their swooping electro-pop number 'May be' during which David Jones' semi-falsetto is shown off to dramatic effect, they had the audience eating out of their hands.
Buoyed by the enthusiastic reception they followed with the stamping Spanish guitar of 'We Are Hungry', and then the slow, epic, build up of 'Hemisphere'.
For the penultimate song Autons served up something very special, a collaborative cover version of The Kinks 'See My Friend'. For the first time in twenty-five years Br
ian
Poole, now working solo under the moniker Renaldo, took to the stage with Autons.
Br
ian
, formerly of the cult avant-garde band Renaldo and the Loaf, and signed to The Residents record label in the 1980s, fitted seamlessly into the Autons dynamic.
The eccentric cover version featured a duet between Renaldo and David Jones, multi-layered ethnic beats, Polish chanting and Leon Tricker's magnificent guitar solo.
If that wasn't enough Autons finished on the I Feel Love disco-esque funk of 'Class Traitor', a perfect counterpoint to the music the Binary Nation DJs had been playing earlier, and a wonderful end to a very lovely performance.